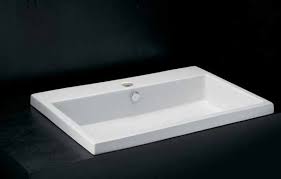 Parisi Alpine 550 Semi Recessed Basin 1TH
Features: 
SKU: PMP1801
A multi-functional rectangular basin that can just as easily be used as an under bench or semi-recessed basin.
Waste Outlet 32mm overflow plug and waste to be ordered separately (see technical data sheets 2.99.0 for options available)
Overflow Standard - positioned at the rear of the bowl.
Colour White only.
Packing Details Aline 550 - 15 kg.
Aline 750 - 20 kg. Supplied in one carton.
Parisi Alpine 550 Semi Recessed Basin 1TH